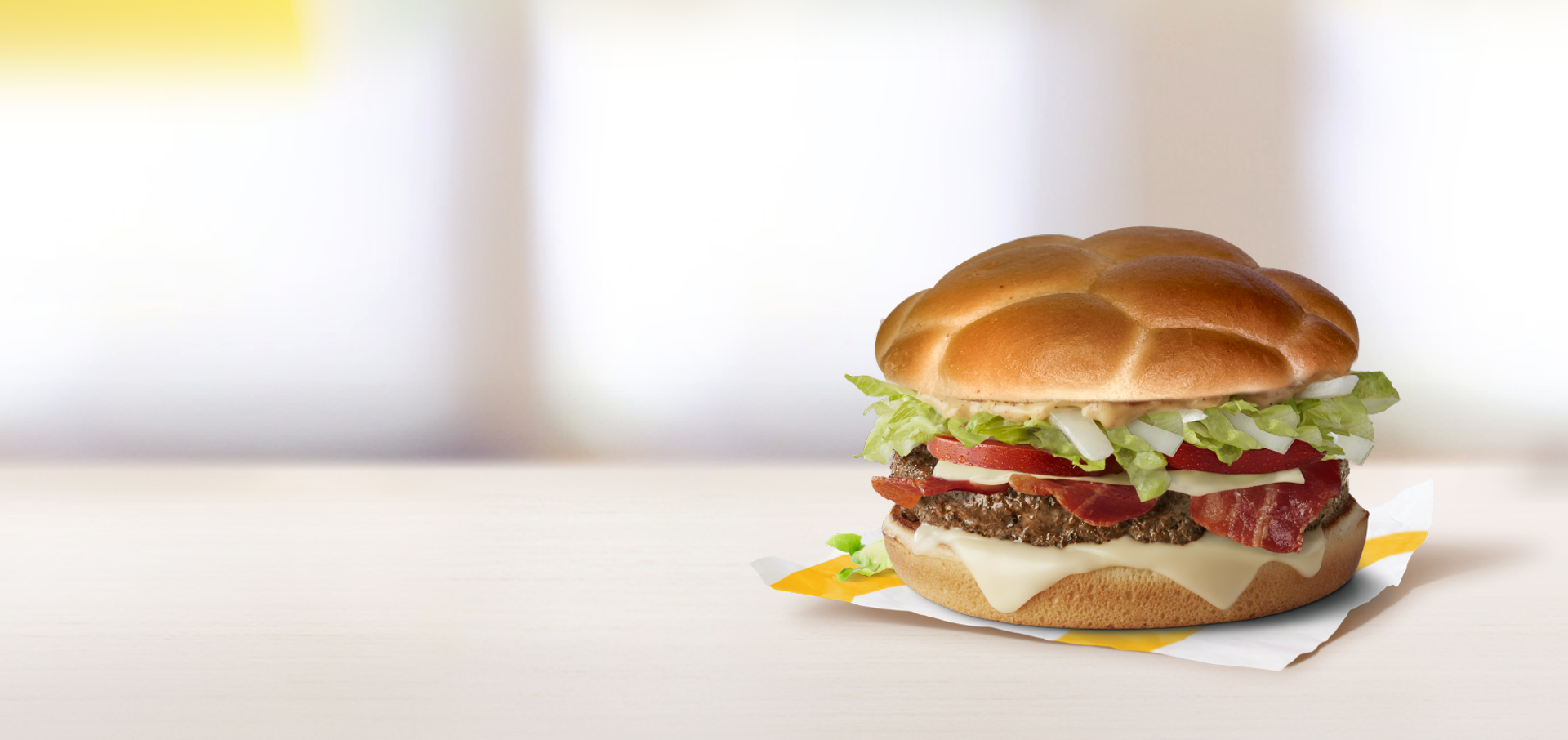 Big Tasty Bacon Football
A 100% beef patty, Emmental cheese, onions, juicy tomatoes, fresh shredded lettuce, crispy bacon and a unique smoky flavored sauce all in a freshly toasted Football bun!

* *Limited Time Only
A 100% beef patty, Emmental cheese, onions, juicy tomatoes, fresh shredded lettuce, crispy bacon and a unique smoky flavored sauce all in a freshly toasted Football bun!

**Limited Time Only
Football Big Tasty Bun

Big Tasty Sauce

Crispy Bacon

Emmental Cheese

Third Pounder 100% Beef Patty

Whole Tomatoes (served as slices)

Shredded Lettuce

Fresh Onions
3408kj

Energy kJ (41% RI* )

816kcal

Energy kcal (41% RI* )

48g

21g

11g

2.6g
Nutritional Information

Per Portion

% RI (Adult)

Energy (kcal)

816

41% RI*

of which saturated (g)

21
Nutritional Information

Per Portion

% RI (Adult)

Nutrition Information

Energy (kcal)

816

41% RI*

of which saturated (g)

21
*Reference Intake (RI) of an average adult (8400kJ/2000kcal)
FOOTBALL BIG TASTY BUN
WHEAT Flour, Water, Sugar, Yeast, Rapeseed Oil, Salt, WHEAT Protein, Pea Protein, Emulsifier Sodium
Stearoyl-2-Lactylate (E481), Glucose Syrup, Rice Flour, Flour Treatment Agent Ascorbic Acid (E300).
May contain traces of SESAME Seeds and MILK
BIG TASTY SAUCE
rapeseed oil, water, sour cream (MILK), sugar, spirit vinegar, flavouring, EGG YOLK, modified maize starch, salt, spices, yeast extract, thickener (E 415), acid (E 270), preservative (E 202), smoke flavouring.
CRISPY BACON
pork belly, salt, acidity regulator: potassium lactate, glucose syrup, smoke flavours, flavour, antioxidant: sodium ascorbate, stabiliser: diphosphates, sodium ascorbate, preservative: sodium nitrite
EMMENTAL CHEESE
Cheese 54 % (MILK), Emmental 15% (MILK), water, Butter (MILK), skimmed MILK powder, emulsifying salt E 331, MILK protein, natural cheese flavour (MILK), whey powder (MILK), salt, acidity regulator E330, anticaking agent sunflower lecithine.
THIRD POUNDER 100% BEEF PATTY
Beef (100%)
WHOLE TOMATOES (SERVED AS SLICES)
Tomatoes
SHREDDED LETTUCE
Iceberg Lettuce
FRESH ONIONS
fresh white Slivered Onion
We produce our food in kitchens where allergens are handled by our people, and where equipment and utensils are used for multiple menu items, including those containing allergens. While we try to keep things separate we cannot guarantee any item is allergen free. While there are no nut or peanut ingredients in the products listed on this site we can't guarantee that our food is completely nut or peanut free.
Allergy Advice: For allergens including cereals containing gluten see ingredients in BOLD